Back to all posts
Posted on
Atlas of the Heart Book Study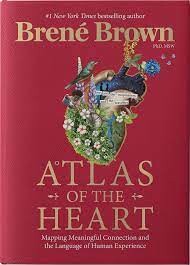 We are very excited to be sharing news about the Atlas of the Heart book study! Understanding emotions is the foundation of social-emotional well-being, and this is the bedrock of living a meaningful life. Brene Brown's book Atlas of the Heart does a great job guiding this work. Mrs. Cooper-Shand has developed a reading guide for the book, and would invite anyone interested in joining the book study to
complete this Google Form -- please complete by Fri., Jan. 13. How often, when, and how people meet - if they come together at all - is completely up to you.
Providing feedback on this form to indicate your interest and preferences around those things will help to make logistical decisions moving forward. At the very least, I will be able to share out the Google Slides for you to begin this adventure, either on your own, with a large group, or even with a group of your own gathering. So looking forward to sharing this work with folks!

**PS - If you are not familiar with Brene Brown, check out her TedTalk on the Power of Vulnerability.